In this text, you could expect me to write about my identity. I can talk about my education as a goldsmith and my study at the Willem de Kooning Academy after which I continued further at the Academy of Fine Arts and Design Maastricht. I was born in Lichtenvoorde, a village in the east of the Netherlands. But is this my identity? Now you know the basic data about me, but not who I am.
Look closer at my face, at my hair and skin. I have blonde hair and a Western European appearance. You don't see any wrinkles yet, but sometimes a bit of acne. Now you could maybe tell my age and cultural background. But how can you read this from my face? Is it the skin that tells you this? How can a face talk about identity?
This is what my work is about. I want to ask questions about identity and show that identity is what makes us individual. Or are our identities more similar than we assume? What is identity?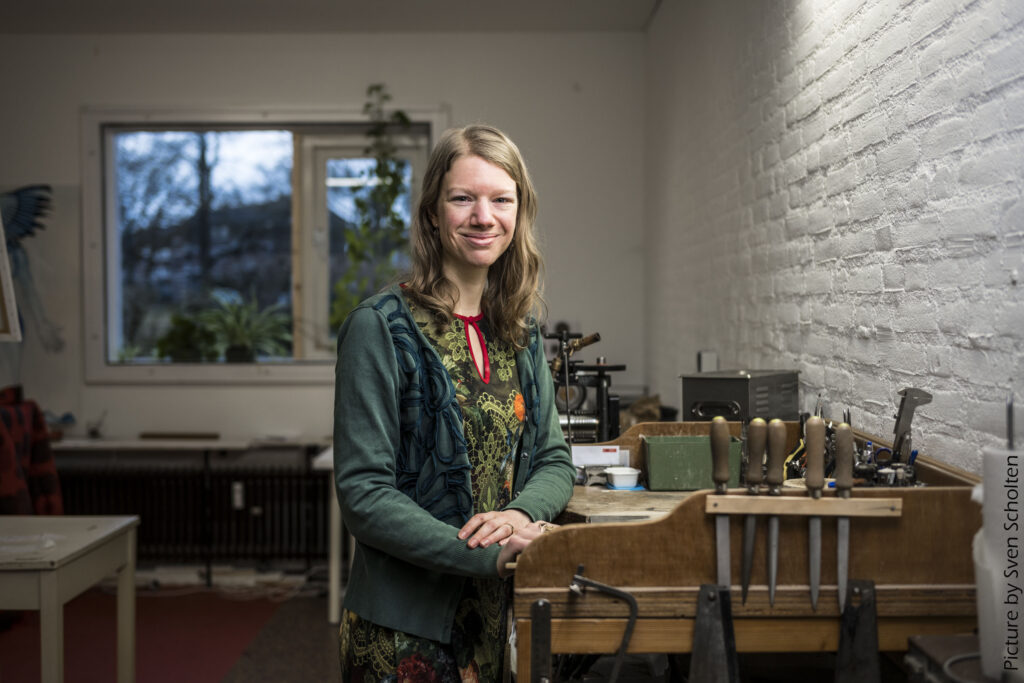 Gallery Door
To see my work in reality, I would like to invite you to Gallery Door in Mariaheide.
See also the page on Hedendaagse Sieraden.nl.
Curriculum Vitae
Education / Training:
2013 – 2016 Jewellery Design
Maastricht Academy of Fine Arts & Design
passed with distinction
2015 – 2016 Internship with Jasmin Matzakow (half year)
2011 – 2013 Associate Degree, Arts & Crafts
Willem de Kooning Academy
2008 – 2011 Goldsmith, Vakschool Schoonhoven
Awards
2020 Preziosa Young 2020, Florence, IT
2019 Talente prize 2019, Munich, GE
Nominations, exhibitions, projects and publications:
2021 Zooming in or zooming out? Gallery Door, Mariaheide, NL
2021 Preziosa Young, Hannah Gallery, Barcelona, ES
2021 Preziosa Young, Galleria del Palazzo Enrico Coveri, Florance, IT
2020 Schmuck 2020, Internationale Handwerksmesse, Munchen, DE
2019 Final Parade, Galerie Ra, Amsterdam, NL
2019 Body Control, Museum Arnhem, Arnhem, NL
2019 Joya Barcelona, Barcelona, ES
2019 ENJOIA'T award, Selected Professional, Barcelona, ES
2019 Fabric or Skin? Solo exhibition, Gallery Ra, Amsterdam, NL
2019 Beijing International Jewelry Art Exhibition 2019, Beijing, CN
2019 Steinbeisser, Amsterdam, NL
2019 Bloemlezing; De Keerzijde. Coda Museum, Apeldoorn, NL
2019 Vers art weekend, Bergarde Galleries, Heerjansdam, NL
2018 4th Tripe Parade Biennial, Shanghai, CN
2018 Exhibition Showroom Limburg, Cube Museum, Kerkrade, NL
2018 Culture and Identity, Solo exhibition, Gallery Ra, Amsterdam, NL
2017 Publication in Art Aurea Magazine (31)
2017 Gris Gris, Group exhibition, Coda museum Apeldoorn, NL
2017 Designer in Residence, EMMA Kreativzentrum, Pforzheim, GE
2017 Built-in, Exhibition with Dovilė Bernadišiūtė, Munich Jewellery Week, GE
2016 40 Years Gallery Ra (Group exhibition), Amsterdam, NL
2016 40 Brooches for Coda Museum Friends, Coda Museum, Apeldoorn, NL
2016 Graduation show 2016 Marzee and Publication, Nijmegen, NL
2016 Graduation Exhibition, at Fine Arts and Design Maastricht, NL
2013 Graduation Exhibition Willem de Kooning Academy, Rotterdam, NL
Chamber of Commerce number (kvk): 66776007